News
Suzuki Unveils New DF115B & DF140B Mechanical-Drive Outboard Motor Range
Suzuki Motor Corporation have today unveiled a new mechanical range of mid-sized outboard motors, the DF115B and DF140B, due to arrive in Australian dealerships from March.
Superseding the ever-popular DF115A and DF140A outboard motors, the new "B" series feature a host of updates, many of which are shared with the highly acclaimed DF115BG, and DF140BG Suzuki Precision Control (SPC) drive-by-wire outboard motors released last year, albeit in mechanically driven form.
The compression ratio has been increased from 9.7:1 to 10.6:1 to achieve greater top speed and acceleration produced by the 2.0-litre displacement inline four-cylinder engines. Lean Burn fuel efficiency has also been significantly improved compared to the outgoing "A" series models. Tests have demonstrated as much as 10% improvement across mid-range to high-end cruising speeds.
The redesigned cowl features a sporty, streamlined profile, sculptured to complement any type of boat with its smooth exterior appearance. It also incorporates a new air intake structure for improved water separation and a silencer-resonator system to attenuate engine sounds and provide a pleasant boating experience at all engine speeds/RPM.
An optimised gear oil passage contributes to lower gear oil temperatures with greater cooling efficiencies increasing the durability of the pinion gear. A large capacity fuel pump, optimised o2 sensor mounting location and use of zinc-coated rustproof fasteners further contribute to Suzuki's renowned durability.
For ease of maintenance, it is now possible to replace the oil filter by simply removing the upper engine cover. A new oil spill catcher surrounding the oil filter mount allows for filter changing without making a mess. A water detection fuel filter has also been added to help protect the engine against contaminated fuel.
Available from March 2022, the DF115B and DF140B range will be available in both 20-inch and 25-inch shaft lengths, exclusively in Suzuki's Pearl Nebular Black livery, and backed by Suzuki's 3+3 year recreational warranty.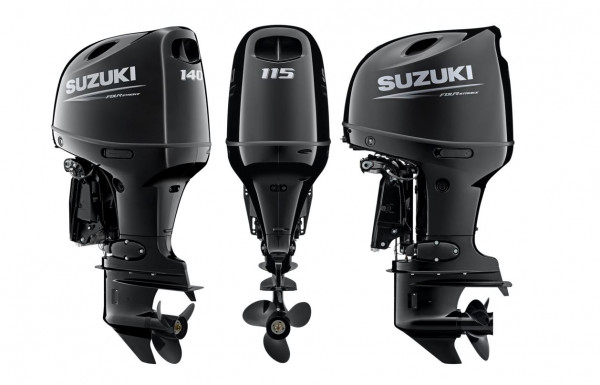 | | | |
| --- | --- | --- |
| MODEL | SHAFT LENGTH | RRP* |
| DF115BTL | 20" | $17,700.00 |
| DF115BTX | 25" | $17,990.00 |
| DF140BTL | 20" | $18,450.00 |
| DF140BTX | 25" | $18,790.00 |
Interested customers are encouraged to contact their nearest Suzuki Marine dealer.
*Includes alloy prop, excludes rigging and labour charges. Pricing correct at time of publication 21st January 2022.